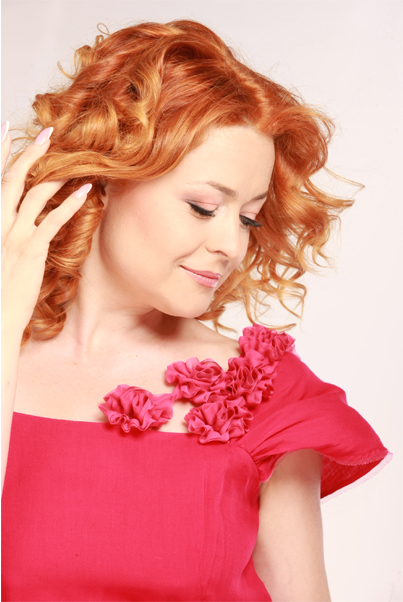 …One frosty morning in January 1931 a young beautiful girl was making her way from Bucharest to Paris. She was wearing not new but nicely shaped light overcoat which softly framed her chiselled figure. A small suitcase in her hand contained a neatly folded piece of cloth, tailors scissors and a needle. She was heading to a big world of fashion to cognize and to learn. Her name was Golda. Having noticed in the young modiste a big potential, the owner of the tailoring shop sent Golda Vinogradskaya to study to the capital of fashion. The girl was gifted and persistent and everybody predicted her great future. Her talent made lots of women happy and rescued her family in hard years of war. Those who knew this woman recollected her as a well-educated and charming one, it was an honor to see her and talk to her and especially — to have the stunning dresses sewed by her. But the fate prepared a difficult and short life. She was often ill. When the time of her depart had come, a baby in her daughter's-in-law womb gave her first movements. Golda Vinogradskaya was born, her granddaughter.
Unlike her grandmother Golda had no abilities to sew and to draw and was working in serious business. She was a successful business-lady and didn't ever think her life could have changed so significantly.
Everything started from the dreams. The ordinary and remarkable dreams. An invisible image of granny, a piece of cloth and enchanting dress were always present in these dreams. Her big desire to create and to dress women in nice clothes has overcome the shyness and fear to start a new business from the scratch. Following the intuition Golda decided to use the hint of destiny confirming the truth "When changing yourself you change the world around you".
The materialized idea attracted a number of talented artists and things moved on. A small atelier was born shortly creating images that were wrapping women in its elegance and originality. Along with increasing number of fans a small atelier grew up as well gradually turning into a serious company – JOLIE DAME that in French means "beautiful woman".
After passing the thorny path of gaining a profession of designer, a lot of competitions, shows, exhibitions, she found her place in this amazing and complex world of fashion. Understanding and feeling the needs of the modern working woman, under the brand GOLDA the industrial clothing collections are created four times a year to live up to its customers' expectations. In all spheres of life a woman who wears JOLIE DAME feels elegant, comfortable, confident, standing out by a tastefully created image. After all, the harmony of inside and outside certainly leads a person to happiness!